RETURN TO INDEX PAGE

My Father's diary of a tour by car to Spain in 1965

The tour was made by my father and mother and uncle Jack and his wife, my aunt Margaret, in my uncle's car with him driving. He was the only one of them qualified to drive.
They made an earlier tour to the Costa Brava, Spain, in my Uncle's Morris Minor. It was almost too much for the 850 cc engine which blew its big end in Spain. A garage repaired it to get them home but Jack decided he would get a bigger car for this trip. He bought an Austin Cambridge with a 1500 cc engine and more comfort for the passengers. It was a good choice and made the trip with no problems.

My father kept a diary on the tour and had his secretary type it up for him and made copies which he gave to my sister and me.
I have scanned and reproduced here the actual copy of his diary, divided into sections as shown in the contents list. My own added comments are in italics.
I have added map illustrations of the route taken (not included in the Web version for copyright reasons).
He refers to photographs taken on the way and I have these photos in the form of 35mm slides which I have added to the account.
When they reached the Spanish Mediterranean coast at Cullera, near Valencia, they stayed for 5 days at the Hotel Safi. I have put some photos they took there on this separate page, Photos at Cullera.
My father was a great raconteur and this diary is typical of his story telling style.

ITINERARY

CONTENTS
1. Days 1,2,3 Northampton to Chaunay 573m.
2. Days 4,5 Chaunay to Santanda 426m.
3. Day 6 Santanda to near Madrid 211m.
4. Day 7 Madrid to Requena 217m.
5. Day 8. Requena to Cullera 71m.
6. Days 9,10 At Cullera 142m
7. Days 10,11 At Cullera 98m.
8. Day 12 Cullera to Sitges 206m.
9. Day 13 Sitges to Blanes 156m.
10.Days 14 Blanes to Lunel 197m.
11.Day 15 Lunel to Chalon 276m.
12. Day 16 Chalon to Arques 390m.
13. Day 17 Arques to Calais then Northampton. 175m.

TOTAL MILEAGE 3,138 miles.

1. Days 1,2,3 Northampton to Chaunay 573m.

Wednesday 23rd. June
Started from Northampton about midnight.

Route from Dover via Calais to Chaunay
Thursday 24th. June
Arrived Dover at 5.30 a.m.
Were able to get on early boat and left for Calais at 9 a.m. Had breakfast on boat. Fine day.Sea choppy but calmer as we left English coast.
Arrived Calais at 10.30 a.m. 150 miles


Took photo on Calais square and fixed yellow dip lights. Had a look at the Flower Clock and took photo.
Went along coast to Boulogne and near Le Touquet.
Lovely beach at St. Cecile Plage, where we had drinks and..........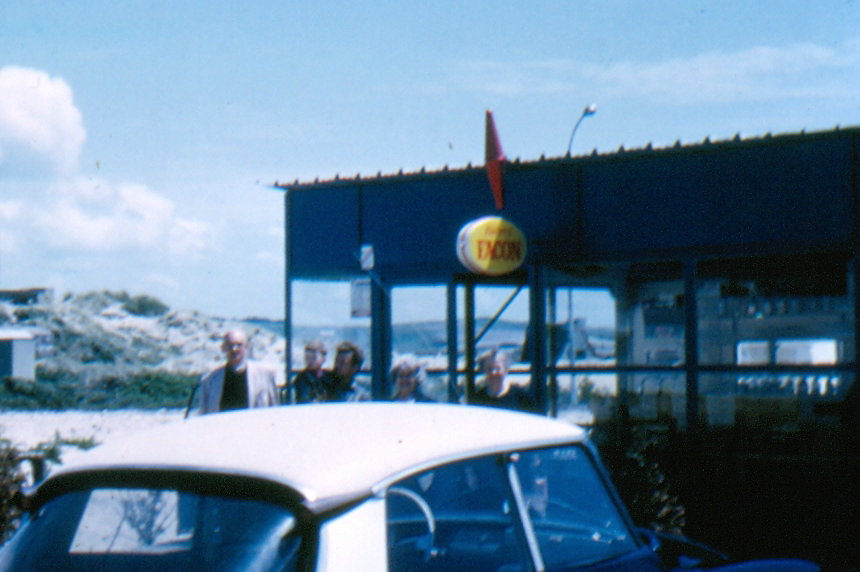 .......took photo with the young owner and his two children.
Through to Abbeville. This was open country with the Forest of Crecy just before Abbeville. Tour de France caused road problems.
Went through Rouen during rush hour and eventually, after being diverted from our route by a whistle blowing gendarme, found our way through to Evreux,
crossing the river Seine and going through wooded country and then open cultivated country. +181 miles.
Stayed the night at Hotel de la Biche (45/- for two rooms).
Dinner at adjoining restaurant (65/- for all four of us).
It was a hot sunny day. The hotel was old fashioned with an internal rectangular balcony with the bedrooms off this balcony, but it was quite good and interesting.
Friday 25th. June


In the morning took photo of Jack, Margaret and Alice in front of Hotel de la Biche.
We were approached by an old beggar outside the hotel and gave him 1 franc, which was more than he expected.
Left at 9.30 a.m. It was hot and sunny.
Went through Dreux and Chartres (cathedral) - through the plains of La Beauce and Chateaudun where there is a lovely castle.
The weather was glorious. We had a picnic lunch at 1.0 p.m. near Cloyes. Wooded country.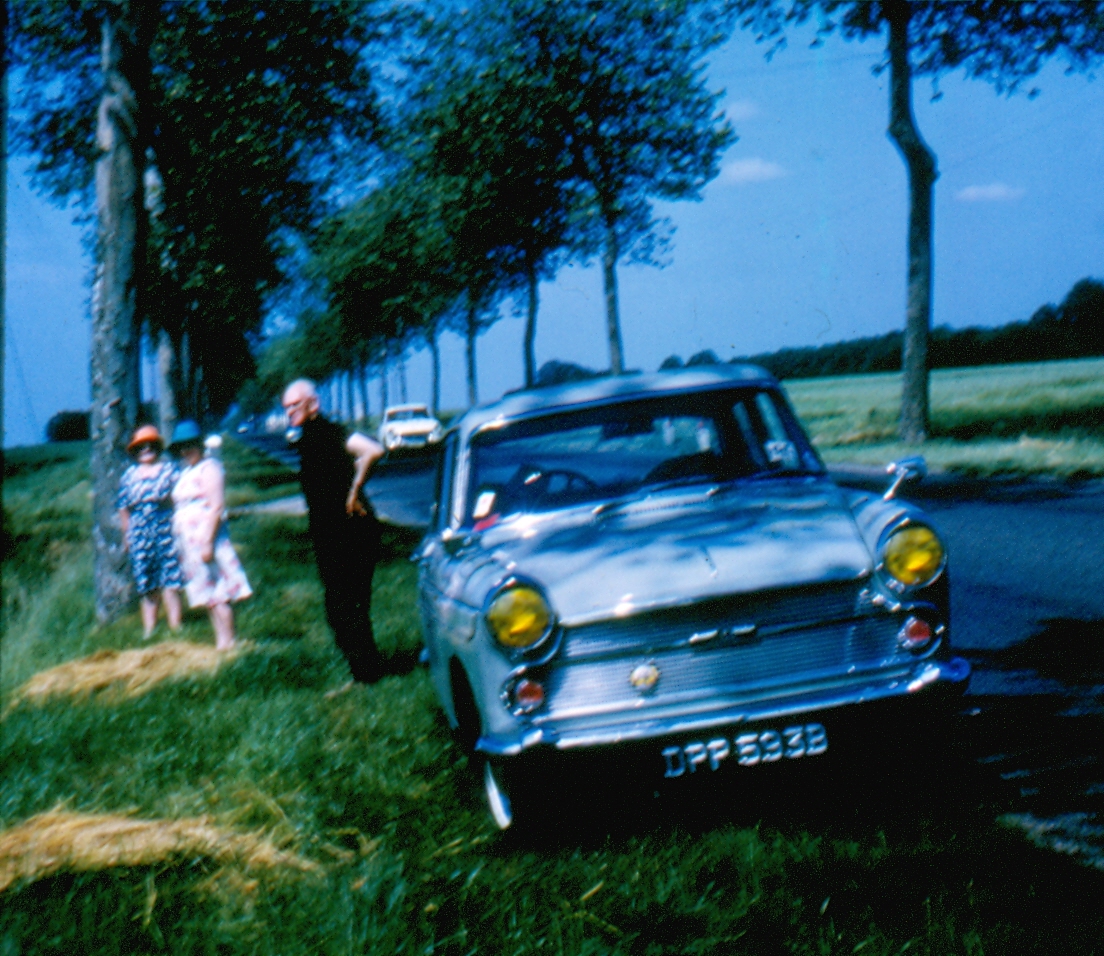 Photo at table, Margaret, Alice and Bill. Photograph at Vendome - avenue of trees - Alice, Margaret and Bill.
On to Vendome, where I changed traveller's cheque.
It was hot and when I came out of bank Jack had got a mine:ral water which tasted like champagne.
On to Tours which was reached at 5.0 p.m. Overcast but very warm. On to Poitiers.
Tea 5.30 - 6.0 p.m. - sunny again and hot. Finished up at Chaunay. +242 miles. Total mileage 573
Stayed at Hotel du Commerce, where we met English family on way home. They had stayed the previous night at a place in the Pyrenees at over 5,000 ft. and it had even been close at that height.
Dinner, 2 bedrooms and breakfast and tip £7.7.0. for the four of us.
Rained during night but fine in the morning.
BACK TO CONTENTS

2. Days 4,5 Chaunay to Santander 426m.
Route from Chaunay to Biarritz (right) and then to Santander (below)
Saturday 26th. June.

9.0 a.m. photo outside Hotel du Commerce, Chaunay.
9.30 a. m. Ruffec.
10.10 a.m. Angouleme - wooded country. Through vineyards and avenues of' trees.
10.45 a.m. Barbezieux. Stuck behind lorries f'or miles about 35 miles f'rom Bordeaux.
12 noon Bordeaux - brilliant sunshine and hot. Stopped and had drinks. Had some hot dogs.
Sat under sunshades on pavement while Jack explored way out to Biarritz.
Thickly wooded where they tap the trees f'or turpentine. On to Castets and Biarritz. This is obviously a millionaires' paradise. But not f'or us - so on to frontier.
6.45 p.m. over f'rontier at Hendaye. It took about 2 minutes to stamp passports on Spanish side and they said "British" and waved us through.
Went on through San Sebastian, pushing on towards Bilbao. Stayed night at Pension Esnal near Orio.
Dinner, breakf'ast and 2 bedrooms and tip £5. 10. 0. the f'our of' us.
The road f'ollowed the coast and then went through f'orested hills like Scotland but even better. A most beautiful part of' the country. 271 miles.
Sunday 27th. June.
Photo in front of' Pension Esnal. Bill standing near car.(this photo missing).
10.0 a.m. start. Drizzle. At start, front wheel sank in mud at edge of' road, but Jack managed to reverse out of' it and the maid got a bucket of' water and washed the wheel.
Crossed the river Oria. and through Zarauz.
We saw Spanish senoras riding donkeys or mules.
They have panniers on each side of' the mule and seem to come down from the mountains (probably on Saturday) to stock up f'or a week and return on Sundays.
At Zarauz we had to pull off the road while the Tour de France cyclists went through. The whole town had turned out to line the roadside and it was quite exciting.
At Elgai bar Jack took a photo of' bedraggled looking houses.(this photo missing).
Next place was a village, Zumaya, where Jack took a photo of' a senora on a mule.(this photo missing).
We went along by the River Deva and through mountains wooded like Scotland. Marvellous scenery.
At 1.0 p.m. we pulled up near Durango f'or drinks. The place was where the men go - on their own and never take the women - f'or a Sunday morning drink of' white or red wine.
They soon made room f'or us at a table with their natural Spanish courtesy.
On to Durango. Durango is dominated by high mountains.


Then Bilbao where Jack took a photo of' a tug (blue) Bigeboonie going up river.
We drove along the river towards the port and looked at the shipping. It is a glorious mountainous coastline.
On through Miono and Castro Urdiales where there is a pretty little harbour. There were palm trees. Also f'ishing boats. The castle is right on the edge of' the coast.
At Lerida took a photo of' a blue boat with castle in the background (Jack, Margaret and Alice). (this photo too poor to reproduce).
There was an avenue of' lime trees and rose bushes along the f'ront. We had tea near Lerida and here we met a Yorkshire man and his wife.
He was managing a Polymer f'looring f'actory at Bilbao where they lived.
The weather had turned wet and we reached Santanda in the rain.
After several unsuccessf'ul attempts to find a hotel (we were trying at the wrong end of' the town) we got out the phrase book and showed it to a taxi driver,
who signed us to f'ollow him. He took us round the outskirts, because of' the busy traffic.
and finally landed us at the Grand Hotel. This was quite on the grand scale, with pages to look a~ter us.
Before we knew where we were the baggage men had whisked our cases out of the car and we were in. We had arrived in the rough so we had to change.
The rooms were first class with their own private toilets.
Then down to dinner. The head waiter took us in tow and thank God he spoke English. We were able to dispense with the phrase book and sign language and relax.
The wine waiter advised a Rhenish red wine, which was very good. We went through the menu and did ouselves proud.
The bill here amounted to £9.12.0. for the four of us and tips of one sort or another (including 5/- to the taxi driver) about 10/-.
This place was a first class hotel and it shows how cheap a Spanish holiday can be. +155 miles= 426 total mileage. 999miles overall total mileage.
BACK TO CONTENTS

3. Day 6 Santanda to near Madrid 211m.


Outside Grand Hotel
Route from Santander to Madrid.
Monday 28th. June
Photo taken in front of the Grand Hotel. 9.0 a.m.
Sunny and warm. We started for Burgos and passed through marvellous scenery - high wooded mountains and a stream in the valley.

Burgos Cathedral.
Jack took a photo (Bill sitting on stone).
This was near Entrambasmestas and the road climbed to 3240 ft. at puerto del Escudo and at times we were right in the clouds.
On the plateau at the top there was a big lake and no doubt most of the water supply comes from these mountain lakes.
At Tubi11a de Augua took a photo of the gorge (Margaret, Alice and Bill).(this photo too poor to reproduce).
The River Ebro goes through this gorge. On this road Jack saw two snakes in the grass of a wood.
Arrived at Burgos at 1.20 p.m. It was sunny and oh so hot. There was a wide avenue with roses planted down the centre. 96 miles.
We had a snack under the umbrellas on the pavement. Then looked round, hoping to get in the very grand cathedral. It was not open to the public until 4.30 p.m. (photo above)
Bill had a wondeful conversation with a Spanish boy about 10 yrs old. Bill spoke English, the boy Spanish and neither understood what the other was saying.
But by some means which only the Great White Chief could have explained it was quite obvious we could not get into the cathedral.
The boy took Bill's hand and showed him 4.30 on his wrist watch. He was quite a little urchin, but so polite, and tried so hard to make us understand. Gave him 3 pesetas (4 1/2d) and he was delighted.
Ought to have given him more.
It got hotter and hotter. Had drinks and could not quench thirst. We got on our way and brewed up tea at 4.30. Still hot.
By 5.30 we climbed to 3,143 ft at Bociguil1as and it was dull and in the clouds, with rain.
Up to 4,757 ft. at Puerto de Somosierra. A heavy storm was forming on the summit plateau.
This was a first class road going right up over the mountain, wooded in parts and then scrub. It is the Sierra de Guadarrama range.
Descent by easy gradients into the sunshine again to Robrigurdo. There were mountains all around us.
at about 40 miles from Madrid we stayed at Hostal Mavi. This was quite a nice place - the first "Hostal" we had used. +115 miles.
We had a good dinner, two good bedrooms and breakfast. The lot for 868 pesetas (about £5. 5. 0.) for the four of us.
Here we met a Mr. Hornby and his wife who lived on the Costa del Sol and were on their way to Somerset where they had a cottage,
and would return to Spain after the summer. He said they had had no rain since February. Overall mileage 1210 miles.


Photo in front of Hostal (Bill).
We saw yoked cattle at work near here.
BACK TO CONTENTS

4. Day 7 Madrid to Requena 217m.

Tuesday 29th. June.


Route from Madrid to Requena
Started from Hostal Mavi at 9.15 a.m. It was sunny. Reached Madrid at 1 0.1 5 a.m. It was blazing hot.
Jack, Margaret and Alice went sight-seeing while I stayed near car and looked around the Prado Square where the museums, galleries and government offices are.
I wanted to cash a traveller's cheque but found the banks were closed for the day and did not open till Wednesday.
It got hotter and must have been nearer 100 than 90. So I went back to car which was parked under trees and sat for a time in the shade,
Thought I would have a drink but felt too hot and bothered to move. By and by Jack, Margaret and Alice came back and said they had met a young Englishman who had married a Spanish girl
and was now working in Madrid.
Jack suggested I should have a drink and then we would move on, but we decided to get moving, and brew up tea at the first shady spot on the road.
So away we went on the road to Valencia. Madrid lies on a plateau at about 2,100 ft. above sea level.
The road out along the plateau has been described as desolate, but we found it interesting. The dark red or copper coloured soil was so different from anything we had seen.
At times we passed olive groves and vineyards. Still hot - even the breeze through the open windows was hot, and I see I made a note in my diary describing it as bloody hot.
At last Jack spotted a tree at the roadside and we had a picnic and tea.
I drank five cups of tea before I got my tongue unstuck. It was the best I have ever drunk and likely to remain so.


This gave me enough energy to get up and take a photo (Jack, Alice and Margaret).
This was all near a place called Fuentiduena where we crossed tte River Tagus.
On to Tarancon where again we stopped for drinks. By this time we found that neither wine, beer or spirits was any good and sank to the level of drinking lemonade.
Jack tried tonic water and thought he had discovered a thirst quencher (but he hadn't).
He discovered other quenchers later on, but the only thing that does any good is tea - until evening time, when a lager from the frig is quite all right, and more if followed by another.
Then along the road to Motilla del Palancar (2,953 ft.) where it was cloudy but hot. Wheat and olives along this part of the road
There had been a storm which was just ahead of us but we missed it and only had a few spots of rain.
There were lakes on the plateau. Just before Motilla there was a big lake and a hydro-electric dam.


Photo of dam.
We pulled off the road to look at this and had hardly got out of the car when a most jolly Spaniard came over to us, jabbering like hell and totted out a glass of vin rouge (which was good) for each of us.
We helped him finish the bottle and in return Jack gave him some English cigarettes.
He was out with his family and some friends in another car and we had quite a bit of fun with them (using phrase book and sign language).
Then descent to River Gabriel and up again. A storm had gone ahead of us, but it was still hot - hardly a breath of air.
Brewed up tea at 5.15 p.m. Then on to Minglanilla - sunny again. Then climbed up through c1ouds with mountains to the east (Serrania de Cuenca).
We saw caves in the hills. After this a steep drop hairpin bends - then climbing till we came to a deep gorge or canyon where another bigger hydro-electric dam was being built.
The descent was about the most steep we encountered. But to our amazement we came across car carriers with a load of cars climbing up from the other side.
Down, down, down by a series of hairpins and then (oh, my gawd' ) up, up, up the other side - hairpin bends all the way till we were up at over 2,000 ft.
There were coaches coming through. All this Was near Villagordo del Gabriel. It was cloudy at this height, but no rain, and very warm. We went along a plateau with
vineyards and corn - it was a bit cooler, through Utiel where we saw ruins (possibly the civil war) and finally pulled up at 7.30 p.m.
at Finca San Jose (Restaurant-Bar) near Requena (2,953 ft.) 217 miles.
It looked so inviting. The Restaurant-Bar is not usually a place for stopping the night, but Jack went in and asked.
In no time they said "Yes" and we found they were giving up their own rooms to us. There was a mansion nearby where the owner of the restaurant lived.
We saw his daughter bringing clean sheets across for us. They put us on a dinner and the waiter (a most charming fellow of about 60) gave us first class service including advice about wine for dinner.
We really enjoyed it. Other people (locals) came in for a meal. After dinner we watched T.V. and the waiter kept us supplied with beer, and then to bed.
The bill for all of us (except drinks after dinner) was £3.0.0!!! including coffee and rolls in the morning. Mileage overall 1427 miles.
BACK TO CONTENTS

5. Day 8. Requena to Cullera 71 Miles.

Wednesday 30th. June.


Route From Requena to Cullera.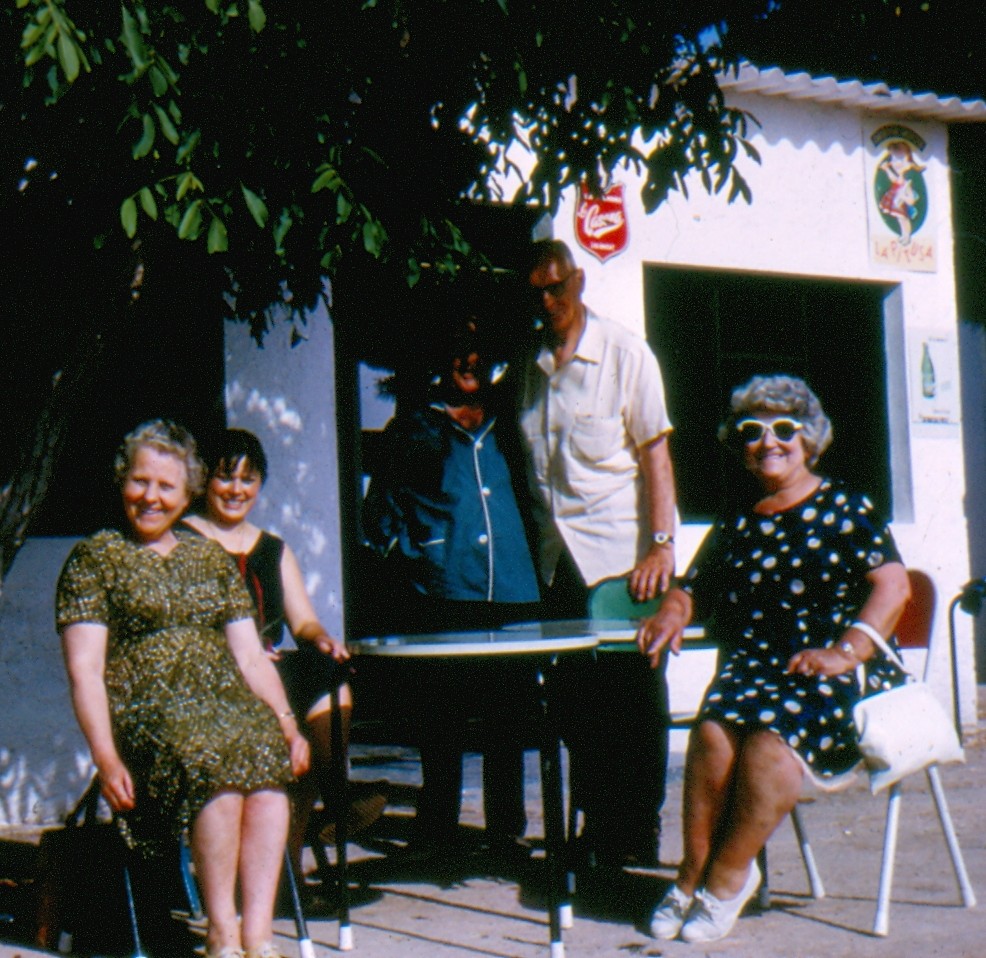 Jack took photo of us at front of the Finca San Jose, with owner and the manager's wife. I also took also took one with Jack on it.
Jack also took one of the owner's gardens. It was really quite a place. Lemon groves and all that.
Meanwhile the staff had been cleaning up the car park in front of the place.
They had only just finished when along came a coach with a party of young men and women. Out they got - the men from a door on one side
and then when they were all out, the girls from a door on the other side. How delightful, we thought, and then they went and spoilt it.
They opened their bags of sandwiches and threw the paper down where they stood, making the place look like a litter dump, and then walked into the bar for drinks.
Then back to the coach - men in their door first and then the girls in theirs - and away.
At about 9.0 a.m. we said good-bye - I thought he was going to kiss me for a minute - he did give our ladies a chaste salute on the hand and did it so naturally that I
was on the point of suggesting an encore - but thought better of it.
So on our way in brilliant sunshine. It was already hot. Down, down, down, between hills, olive groves, almonds and apricots.
10 a.m. - 32 miles from Finca - Jack got out to make sure they were lemon groves. They were.
On to Valencia which we reached at 10.30 a.m. Went into Banco de Valencia to cash traveller's cheques.
The cashier spoke some English. I asked him the rate of exchange (it was if anything a bit better than we had got in England before starting).
When I told Jack this the cashier said "Have you had any difficulty then?"'. He seemed quite surprised that we had expected anything but the proper rate.
So much for the books, especially by Americans, which warn you against being twisted. We never encountered any of this - not even in France.
Valencia is quite a big city. We had a look round and had drinks in a pleasant place, (beer this time) and then while the girls were buying postcards,
Jack and I slipped into a Bordiga (wine cellar) where there were some locals drinking red wine. It was good.
Jack went and got a litre bottle from the car and we had it filled for 7 pesetas (10 1/2d) i.e. just short of 2 pints. It was terribly hot and sunny here.
We finally left and turned S.W. towards Alicante passing through avenue of palms. Then bamboo growing at roadside and also paddy fields where for the first time we saw rice growing.
At first the villages looked poor and one hotel we looked at vIas not too inviting. We were intending to find a good hotel where we could stay beside the Mediterranean for a few days.
We tried to persuade Jack to turn back to Valencia and make towards the Costa Brava.
He stuck to his guns and on we went again through Sueca then past the Hotel Safi at beach level, which we liked the look of, and up the coast road to Cullera, which was a mass of hotels and apartments.
We decided to go back a mile to the Hotel Safi and having been shown the rooms booked in for five days. 71 miles.
This proved to be absolutely what the doctor ordered and later on when we did the stretch up to Barcelona we gave Jack a pat on the back for keeping to his plan of going south
and making sure of the sun and did we get the sun - we got it - too much at times.
So we unpacked and I found I had left my dressing gown and razor adaptor behind at Finca San Jose. They rigged me up an adaptor at the Hotel.
It was quite a place. Although segunda categoria by Spanish classification, it was first class compared with most of ours.
We had a large bedroom with balcony overlooking the sea and our own bathroom with shower etc. attached.
Dinner was quite up to standard and we settled down for a life of luxury. Overall mileage 1498 miles.
BACK TO CONTENTS

6. Days 9,10 At Cullera 142m

Thursday 1st. July.
When we were unpacking yesterday the Hotel people spotted a plastic mack in the car and said you won't want that, but when I came down to breakfast this morning it was raining,
although it was sunny with blue sky all around.
Jack had been outside and he said that a white cloud had come floating in from the sea and he saw a rocket fired into it. This had caused the rain which lasted for 10 minutes.
We decided to go back to Finca San Jose for my dressing gown. We had got the waiter to write a note for us, but had quite a job explaining what a dressing gown was.
Jack brought his down and then they had a job to make up their minds. Finally we got going and the old boy at Finca was pleased to see us again.
We soon had the dressing gown and adaptor and away again, getting back to Hotel Safi at 2 p. m. in time for lunch.
Jack and Margaret were having a bit of stomach trouble. It was overpoweringly hot and we decided that we must cut down on drinks, which probably caused the trouble.
We rested during the afternoon and then went for a run along the cliff road through Cullera.
The coast scenery here is first rate and just like the travel agency pictures of the Mediterranean. +142 miles.

Friday 2nd. July.
Breakfast at 8.30 a.m. Sunny and already hot. Went on to beach and rigged up awning.
Jack fixed it to a big rock and later told me that the rock was a hive of lizards which disappeared like lightning. We spent the morning - Jack and Margaret bathing and I paddled.
I should have loved a swim but would not risk it for fear of losing my artificial eye in the sea.
I didn't want to risk finishing the tour with a black patch over one eye. I might have been mistaken for Admiral Nelson in mufti.
After lunch I was going upstairs thinking to have a shower. The proprietress passed me on the stairs. She was French and said "Eh bien! monsieur, vous vous reposez".
I realised she thought I was going to have a sleep. That's a damn good idea I thought. Went back and told the others. That is how we came to adopt the siesta.
It was certainly too hot to do anything else. We woke at about 4.30. Brewed up tea and then went down to the beach until dinner.
As a contrast to us - there was a gang of men working on the steep cliff at the back of the hotel - terracing and building steps up and stone walls.
The hotelier told us they were preparing the site for chalets. They worked from 8.0 a.m. to 7.0 p.m. (1 hour break at midday) Mondays to Fridays, and 8.0 - 5.0 p.m. Saturdays.
They were joking and singing all day long and seemed a happy crowd. So much for the general idea that the Spanish are lazy.
One ether thing to mention about them. Wherever we were - sometimes passing through the poor parts of towns - and through poverty struck villages- the children were always dressed immaculately.
Even if they were poor they must stint themselves to keep their children beautifully dressed and clean.
It is also quite a sight on Sundays to see teenage girls going to their confirmation. They are dressed as if they were going to their wedding.
Also the larger towns are developing industrial zones, with blocks of flats. The railways are also being electrified.
Altogether it is obvious they are on the up and up and in parts are nearly up to our standard of living. Overall mileage 1640 miles.
BACK TO CONTENTS

PHOTOS AT THE HOTEL SAFI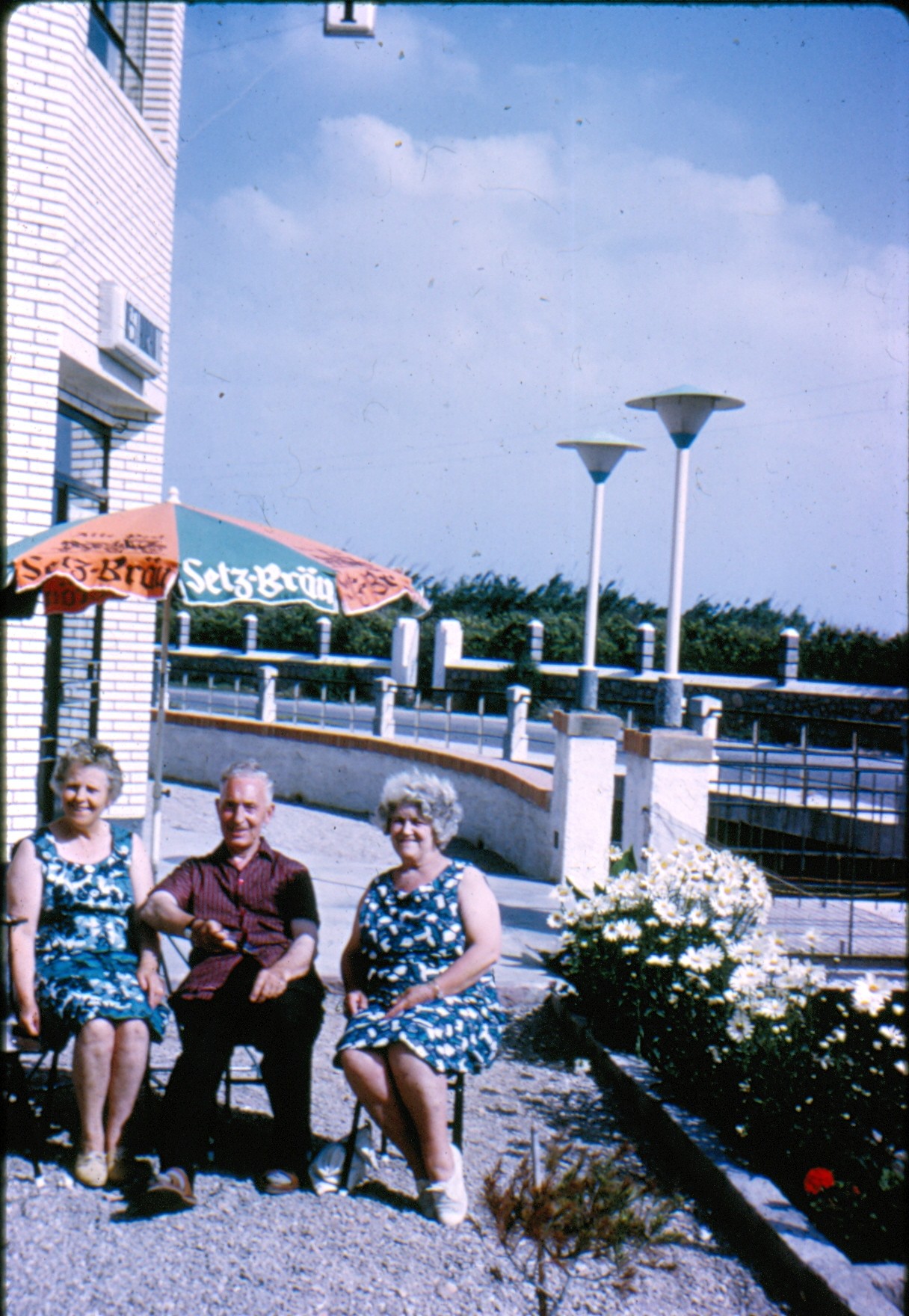 More photos on a separate page: PHOTOS AT CULLERA.
BACK TO CONTENTS

7. Days 10,11 At Cullera 98m.
Saturday 3rd. July
The hotelier who spoke a little English said they were having a crowd of about 60 to a party that night.
Lighting arrangements and loud speakers were being rigged up in the forecourt and a long table with awnings over.
We spent the morning on the beach again and the afternoon sleeping.
When we came downstairs later on, two coaches had arrived and it was obviously a works outing, with wives and children.
I had been sitting out in the forecourt knocking back a beer or two and watching them. There was a school sitting at a table playing cards (probably their version of solo).
There was a group of women nattering away ten to the dozen at another table. Also the courting couples. And of course the usual crowd at the hotel bar.
The boss seemed to be ready to stand anybody a drink and everybody seemed to be having a good time.
To our consternation they sat down at the long table just before we were going in to dinner.
Our waiters, augmented by about two temporaries, then set about serving them and also us in the dining room overlooking the courtyard.
There must have been over 60 of us staying in the hotel. I have never seen waiters move so fast. It was fascinating. They did the job perfectly. Not a plate dropped.
I watched in the hope that one of them would miss the step down to the forecourt and go base over apex (to put a more vulgar phrase into polite English) but no such luck.
Ater dinner we sat out in the forecourt while the boss made the usual speech - someone replied - and then someone sang a song or two and an entertainer told funny stories.
By the applause end saucey laughter - especially from the opposite sex - I would judge that some of them were also somewhat risque. Pity we could not understand them.
At the hotel we had a French foursome at the next table - twin sisters and their husbands - and we got on quite well with them in spite of the language difficulty.
And so to bed. Our room overlooked the forecourt - but in spite of the singing and laughter we were soon off to sleep and never heard them go.
Just an after thought. If we had not been in Spain, it could have been a works outing anywhere in England. They are not all that dfferent from us.
BACK TO CONTENTS

Sunday 4th. July.
Went along coast beyond Cullera towards Alicante. Beautiful scenery.
Bought some oranges at roadside. Jack flashed a 100 peseta note and before he knew it he was the possessor of 3 string bags of oranges - about 60 in all. Well, its all in a good cause.
We brought them all the way back to England. We passed orange and lemon groves. Also palms and enormous cactus.
There were mountains along the coast road rising to 3,000 ft. It was all most impressive.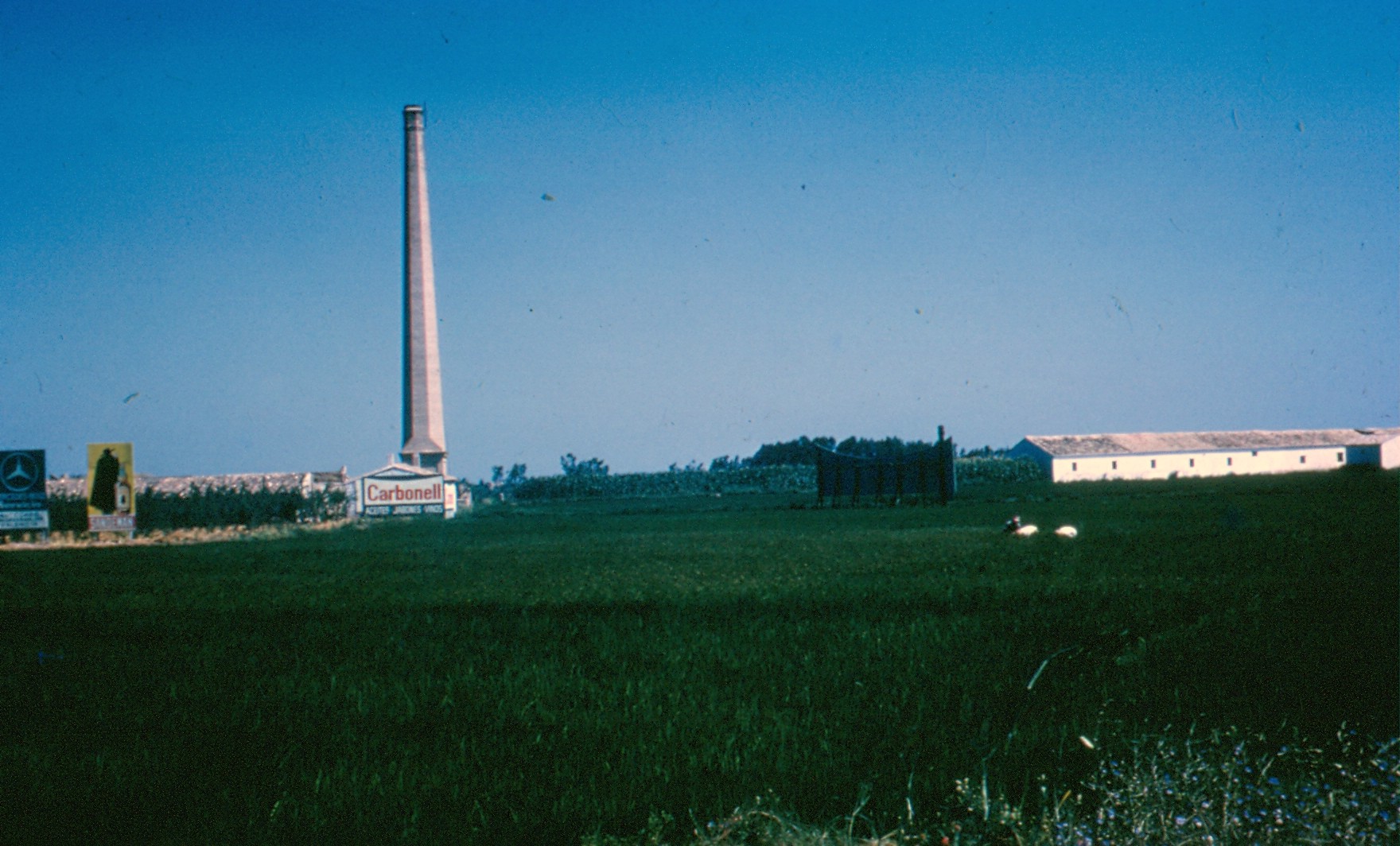 Photo of rice fields and 3 men at work. We had a picnic (photo-Alice, Margaret and Bill) under a chestnut tree.
Saw a Spaniard out gathering blackberries. Asked him (sign language) if chestnuts were edible. They were not.
The orange trees have a deep green leaf. We were told that each tree, about the size of a small apple tree, has about 40 kilos on it (75 to 80 lbs).
Photo of hotel in Cullera (This photo may be one of the other photos at Cullera) where Christine Keeler stayed during "the troubles".
There they regard it as a claim to fame and a good advert. It was a super hotel. Oh Lord! How the privileged (?) class do live.
BACK TO CONTENTS

8. Day 12 Cullera to Sitges 226m.

Scenic Costa Dorada route to Sitges.
Took a read.:ing on the mileometer: 8049, - Mileage at start: 6311= 1738. 1738-1640 =98,
So we must have done about 98 while staying the five days at Cullera.
Monday 5th. July.
Settled up at Hotel Safi. Bill for four of us including drinks at meals 5964 pesetas - roughly £36. Four persons, full treatment for five days £9 each!!
Asked proprietor where waiters were. He said not to bother - the bill included a service charge.
I said the rich Inglese would also like to give them a tip. Would 100 pesetas be all right (12/-d). He said it would be more than enough.
Gave it to waiter (there were three of them) and they were content.
So the rich Inglese left to go on to the Costa Brava. This tipping is a bit of a problem. We felt we should have been a bit more generous as they were so good.
But then we remembered that we had had many drinks outside meal times, for which we paid on the spot, and every time gave the waiters a tip of about 6d. to 9d.
These must have mounted up during our stay to well over a quid to thirty bob. So we were the rich Inglese after all.
So we started at 9.30 a.m. going back through Valencia. It was sunny and (need I say it) hot. We passed the rice fields again and also bamboo growing alongside the road.
There were also wild Iris flowers. At 10.10 a.m. we got to Valencia and cashed travellers' cheques at the Banco de Bilbao, getting 822 pesetas for each £5.
Quite a proper rate and no trouble at all. It is quite a busy place and easy to get tangled up in. But we untangled ourselves and left at 11.5 a.m. to get along towards Barcelona.
Along the road we passed orange groves which had a first class irrigation scheme.
I have seen nothing like it in England (judging by the weather since we got back, we shall never need it either).
At noon we stopped for drinks at Almenara - there were mountains ahead inland.
Through La Llosa where there were large orange groves and also what looked like locust bean trees - they are most peculier - pear trees - apricot orchards and for a change
a blue flower like convulvulus. None of the fruit was ripe, so we couldn't go scrumping.
Through Nules crossing River Mijares, then Villar Real. There were roses alongside of the road. More vineyards and views of the blue sea. Did I remember to say it was still hot and sunny.


Took photo of sea in distance near Oropesa, and just beyond here stopped for picnic lunch and drinks (1.50 p.m.).
We crossed dried up river beds. Just about here we saw a horse with a hat on (not quite a la Christian Dior - but still quite becoming) because of the heat.
Once more I think I am justified in saying it was by now bloody hot. We crossed a bridge over the river Ebro near Amposta.
Still the same old olive groves, bamboo and vineyards. The road zig-zagged a lot - we could see the sea.
Then we passed an open touring car which had overturned in a ditch. He had passed us some time before and had failed to negotiate a tight bend.
This is always a hazard if you don't heed the signs. They have a very good method of signing to slow you down.
Starting wi th an 80 or 100 kilometres per hour, then down to 60, then 40 and sometimes 30.
If you do this, by this time you are just about right to get round the hairpin bend safely.


Road near Hospitalet.
Then on to Hospitalet, on the Golfo de S. Jorge. This is a typical Spanish seaside place and would be nice to stay at. It is quite near to Tarragona.
Near here we passed several river beds which were quite dry. So were we for that matter.


Took a photo of a train passing by at Hospitalet.
The road went along by the sea. There were the same old mountains to the north, the same old vineyards, olives etc. but, for a change, we saw them digging potatoes.
We also saw a most peculiar cactus tree about 15 ft. high. Later we passed through avenues of trees coming up to Tarragona. There was big industrial development here.
Dozens of Vespa motor bikes whizzing along. After this a lovely coast road by the sea. Big road widening scheme in progress. Reached Calafell at 7.15 p.m.
Soon after this packed in for the day at a roadside pension near Sitges, called Deutsches Haus run by a youngish German and his wife.
There was something peculiar about him. He was too keen to ask if we had any ill feeling for Germans, but when we tried to quiz him he closed up like a clam.
We had dinner which his wife prepared, including German sausages and it was quite good. His wife was just as charming as he was gauche.
The place was reasonably good, but not at all up to Spanish standards.
His prices were however. 1547 pesetas for the rooms, dinner and breakfast, i.e. nearly £10 for the four of us. The rotten old ****! +206 miles
We went into Sitges for the evening. It was packed solid with teenagers of all sorts. Night clubs and all that. We had coffee at tables on a sort of boulevard.
Sitges is a miniature Spanish Blackpool!
We found on getting back, that the railway line ran near the back of the place. +20miles.
Every time a train went by it seemed as if it was coming through the room. In spite of this we slept.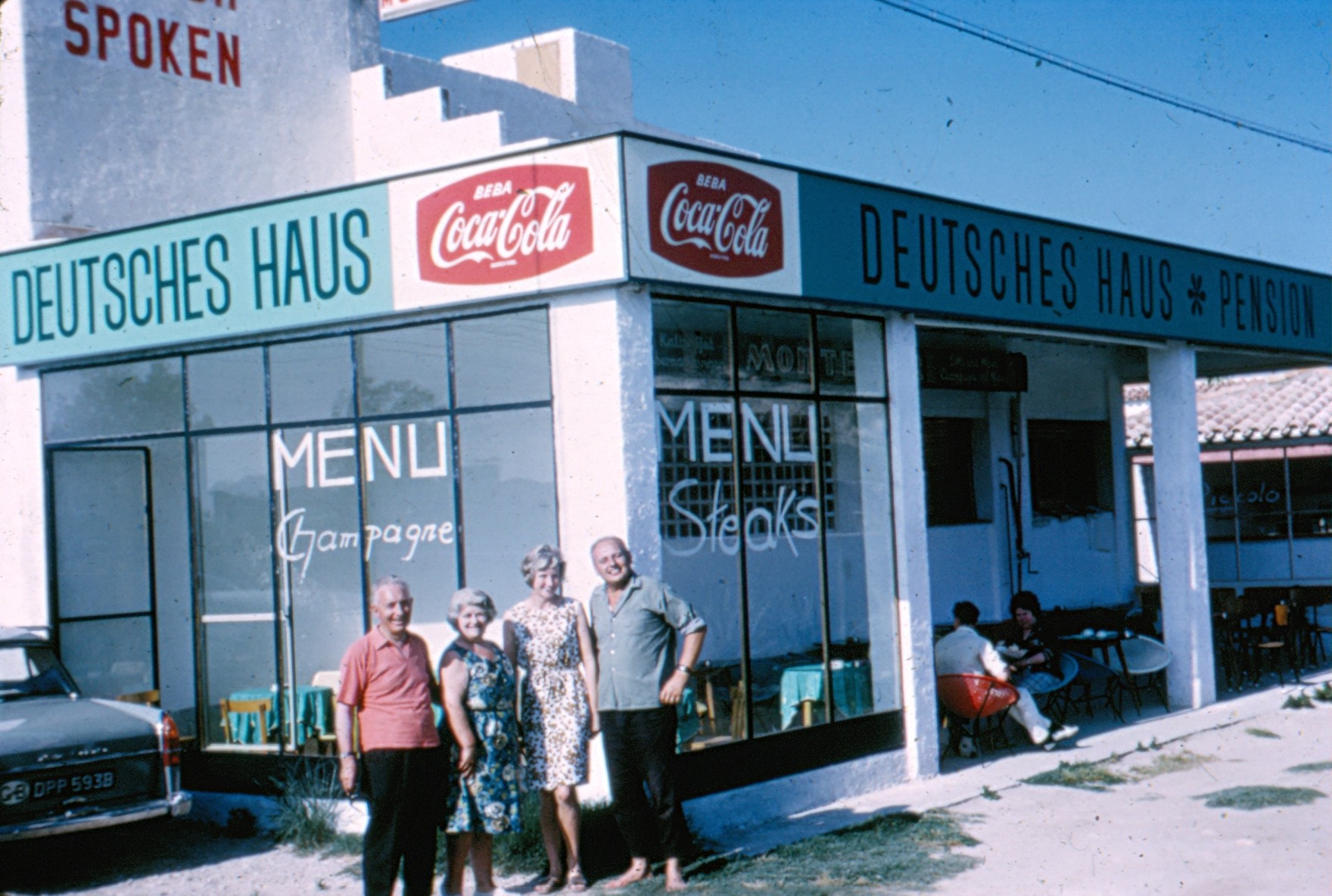 On leaving in the morning, took photo outside Deutsches Haus, with Jack on it this time. I still think the Jerry was a phoney. Overall mileage 2100 miles.
BACK TO CONTENTS

9. Day 13 Sitges to Blanes 136m.


The scenic route along the Costa Brava to Blanes.

Tuesday 6th. July.
Left at 8.45 a.m. and went through Sitges and Hospitalet, a very charming spot, and along cliff road by the sea - sheer drops lovely scenery and no development till we got near Barcelona which is on a plain - quite flat.
We were in a stream of cars, but there was a dual carriageway into Barcelona, as good as the M.1.
In Barcelona the police were on point duty standing under sunshades.
We were now S.W. end of the Costa Brava. The road followed the coast.
At Masnou we had a sight of the electrified railway system and some brand new electric trains; on the other side was the beach and the deep blue Mediterranean.
Further out (about 200 miles) are the Balearic Islands - Minorca and Majorca to the south-west - out of sight of course.
To the north-east we could see high mountains - through Premia de Mar and St. Juan where there were palm trees.
Here we met heavy traffic going both ways. On to Matario, Caldetas, Arenys de Mar, Canet de Mar, San Pol de Mar, all good places with good beaches.
Still very warm. We then climbed through the coastal hills to Calella. This was all along a most interesting coast road with much traffic.
On to Santa Susana and then good old Blanes and the Hotel Mediterraneo, where we stayed two years before.
This place has atmosphere. We booked in for the night. They remembered us and made us feel quite welcome. +136 miles
We were just in time for lunch. There was a new head waiter who gave us the full treatment. Altogether it was first class and we wished we could stay longer.


Jack took photos of the Hotel and the front.
We went up to Lloret de Mar, Tossa de Mar and San Feliu to do some shopping.


San Feliu
Then back to Blanes for dinner and bed (after the usual gathering at the bar with Jimmy the barman in good form).
We talked with an English couple who had been going there for the past five years.
The day's full treatment, including breakfast next morning, cost 1049 pesetas and tips 85 pesetas = 1134 pesetas. Just under £7 for all four of us.
BACK TO CONTENTS

10. Day 14 Blanes to Lunel 197m.

The coastal route from Blanes to S. France.
Wednesday 7th. July.
Sunny and hot. Well good-bye to Spain and the long trek back through France. Left at 10.30 a.m. Reached Gerona at 11.45 a.m.
Photos. Copper and mule drawing cart.


Gerona. Policeman directing traffic Gerona. Donkey and cart.
Reached frontier, Le Perthus at 1.0 p.m.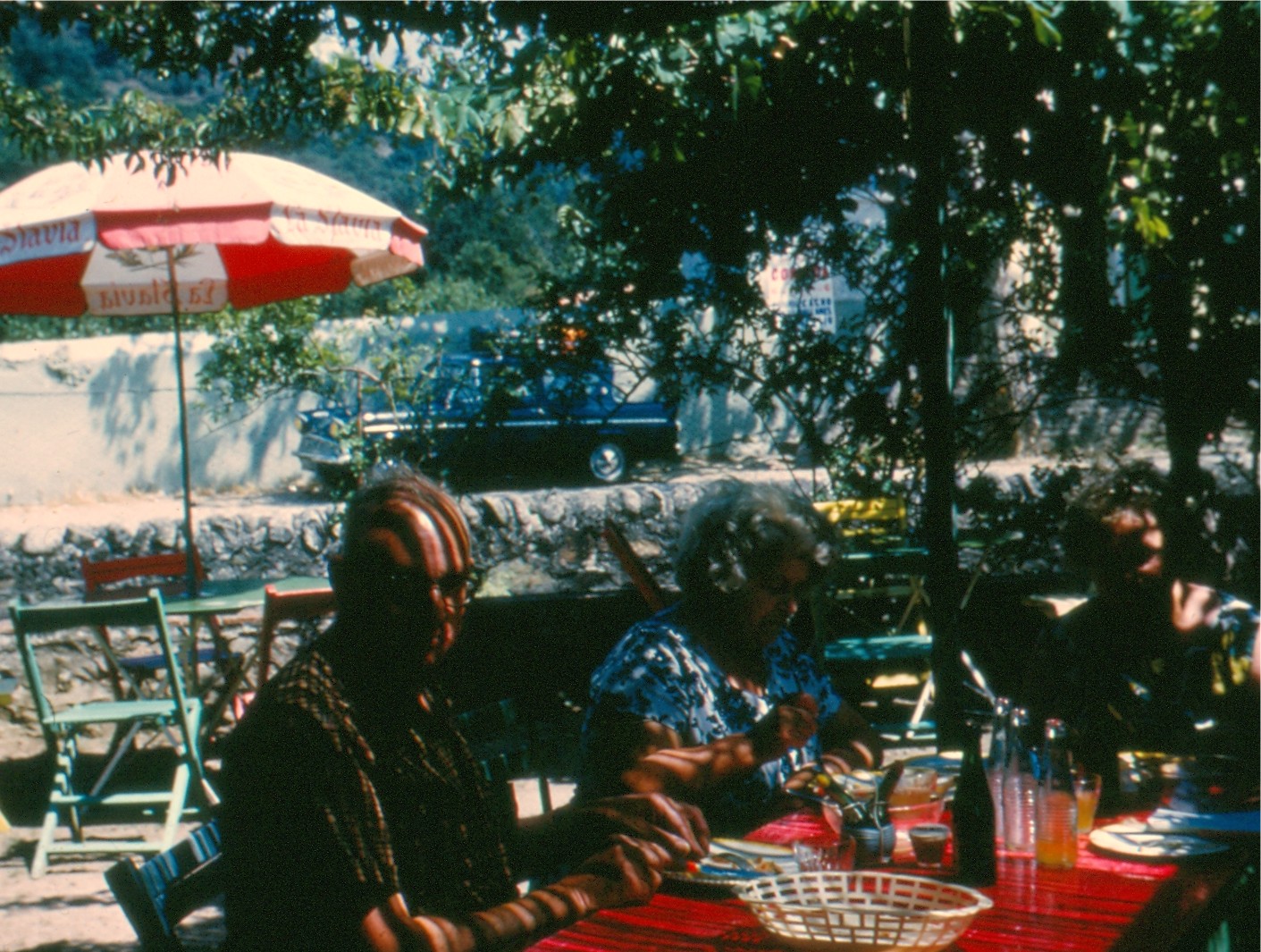 Frontier near Perthus Lunch at Relais du Moulin, near Perthus.
Took photos and cashed traveller's cheques without any funny work and then pulled up at Relais Du Moulin for lunch in the garden under sunshades (photo).
The young bearded manager looked after us well. 33 francs the lot including tip - about 12/- each - dearer than Spain. Vive la France and blast the expense.
Then through flat country to Perpignan. Apricot orchards and bamboo at roadside. The crickets were making a hell of a noise. We could see the pyrenees to the north-west.
Crossed River Tet. Along a fast coast road through avenue of trees to Beziers and then brew up tea. There was a stiff breeze but it was still warm.
Traffic going towards Spain was heavy. We turned off the main road to go along the coast through Agde and Sete right alongside the sea shore.
There were notices warning motorists of sand blowing across the road. We went by the docks at Sete. This is a wine centre in the middle of vineyards. To the north we could see high hills.
Then through Mireval and on past car graveyard over a rough scrub plateau and then vineyards to Montpelier, a very attractive town and wooded country to Vendargues.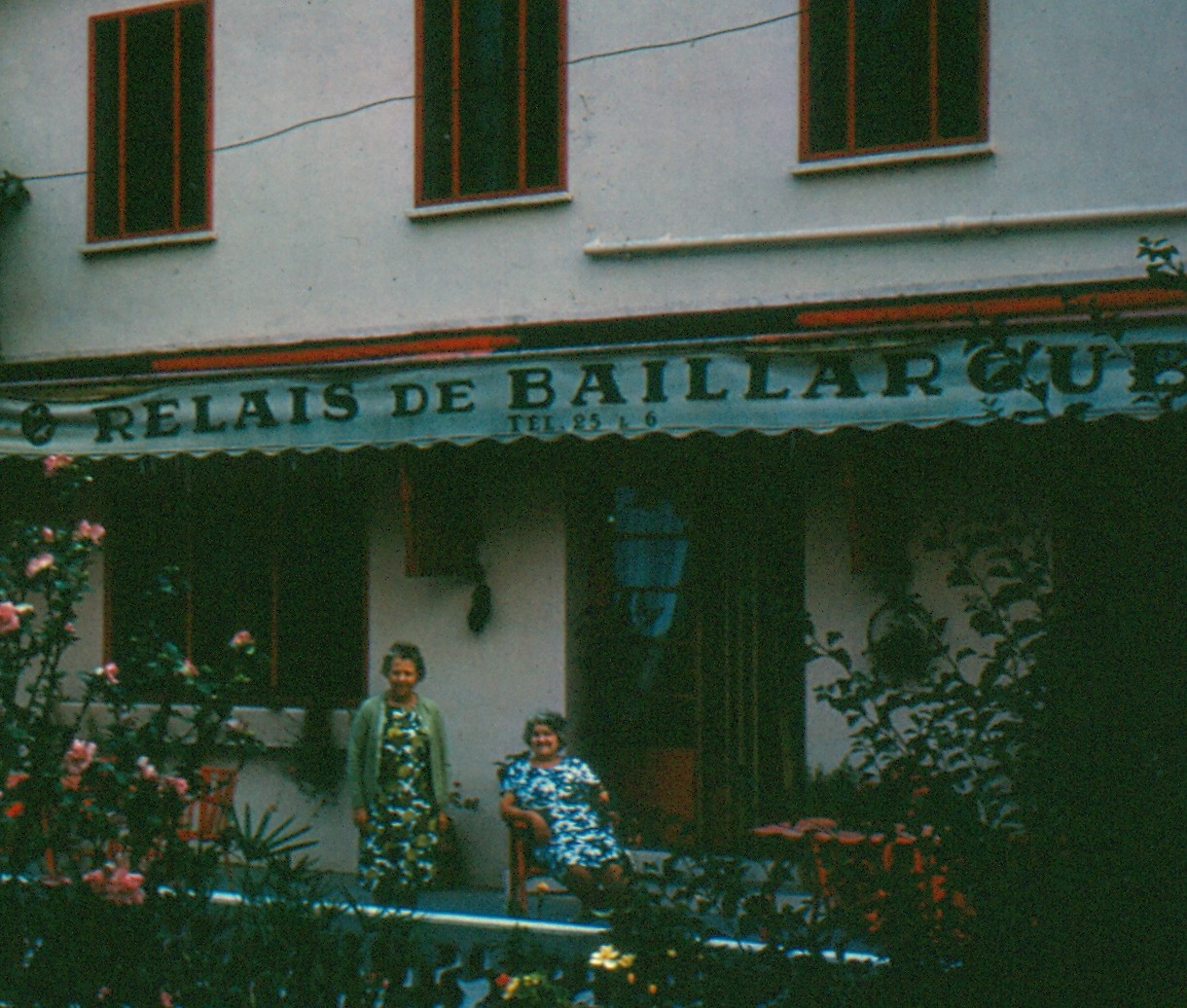 Relais at Vendargues. Margaret & Alice.
Stayed night at Lunel at a Relais. +197 miles.
Dinner and breakfast and rooms 115 francs or £8. 12. 6. the four. The prices are up. Toujours vive la France.
BACK TO CONTENTS

11. Day 15 Lunel to Chalon-sur-Saone 276m.

The long 276 mile journey route up through the Rhone valley.
Thursday. 8th July
Bright and fresh at 8.0 a.m. Sun just out. A fast road through Uchaud. All vine growing country.


Milhaud country house. Peach orchard near Avignon.
At Milhaud took photo of a lovely country house with outside staircase.
Then Nimes where there is a famous Roman Amphitheatre. Very warm. Road not so good in the town.
Then a fast road to Avignon through Bezouce and Remoulins. Olive groves again and then lovely wooded country.
Near Avignon took photo of peach orchard. We were now in the Provencal country.
We passed hotel where we stayed a night in 1963 named Cast Haus Hotel Relais Basque, then Avignon and the River Rhone.


Near Avignon, Alice & Apricots Avignon, Popes Palace
We stayed here looking round for an hour or two. Saw the famous old Pont D'Avignon and went round the Pope's Palace, which looks better outside than inside.
We were conducted round by a. French guide who was no doubt very interesting but we, and other English tourists, could not understand him.
So we mooched round looking at some historic tapestries and wall paintings on our own.
After leaving Avignon the road took us alongside the Rhone and we could see mountains in the distance to the east - probably the start of the French Alps.
Through Orange, where we saw a replica of the Arc du Triomphe. Also the river Largue, which had run dry.
We travelled through woods with mountains to the west this time. Passed an electrified railway line.
Near Pierrelatte when we were batting along at nearly 70 Jack spotted an English car which appeared to be in trouble. It took us 1/2 mile before we could stop and get round.
We went back and found they had run out of petrol (faulty gauge). Jack took one of them back to a filling station where they filled a container. They were from Cumberland.
We made sure they got going and then on we went again to Montelimar, the nougat town.
Mountains ahead and woods. Alongside the Rhone. A very busy road with heavy traffic. Near Valence we stopped and bought some frittes (chips).
The other three could not eat all of theirs so I gallantly ate what they left as well as my own. Later on I paid for being greedy and was feeling really groggy for the first time.
After Valence we had first rate scenery on the other side of the Rhone and not so lovely gasometers on our side.
This is the notorious N.7 (or murderess) road with fast moving traffic. But they are doing a lot of improvements.
Then we came to Vienna along a motor road (toll 1 franc) with lovely views along the Rhone. It was very hot by now. We saw a storm in the mountains to the west.
At 4.30 we had our first rain for half an hour. Then at Lyons at 6.0 p.m. We negotiated the town following the signs for Paris.
Lyons is where they have two big rivers, the Rhone and the Saone. Some dear old gent tried to direct us.
I understood most of what he was saying, but he was so intent on telling me about the two rivers that I got mixed up over the route.
Anyhow we got through all right during the rush hour and away on towards Chalon-sur-Saone, through woods and vineyards. On through Macon on the N.6. Cloudy.
High hills ahead - wooded and good scenery. Out came the sun again and we pushed on through Tournus.
We went through a mixture of vineyards, grazing land and corn, and a lovely stretch of the River Saone. Plenty of trees and avenues of trees.
Finally pulled up near Chalon at the Relais de Grosne for the night. Here Jack said "What about a beer?" and I did not feel like one.
It was those chips and a warning that all was not as well as it should be. However, I had the beer and also a good dinner.
Then we sat and watched television. It was quite good - some local fete and sports with comic events. At this place a fellow was taken ill and had to
be taken away to hospital by ambulance. (I was not feeling so good myself).
The bill for the night, dinner, breakfast, drinks and tip was 117 francs (£8. 15. 0.) for the four of us. +276 miles.
( This was a long distance to travel on the old N roads, yet they managed to stop on the way sightseeing and even to take a stranded motorist for petrol- JB).
BACK TO CONTENTS

12. Day 16 Chalon-sur Saone through Arras to Arques 390m.

Chalon to Arras Arras to Arques

The amazing 390 mile journey route.
Friday 9th. July.
8.30 a.m. started for Chalon-sur-Saone and passed the stone erected to the memory of Daguerre, one of the pioneers of photography.
On through the famous vineyards of Burgundy, taking a by-pass to Dijon through Chagny and the vin blanc district, Beaune.
It was sunny and warm. Grapes by the acre, miles and miles of them. We saw women at work in the vineyards. There were also cornfields. Dijon at 9.45 a.m.
Then through wooded country and avenues of trees. Becoming cloudy. Saw glider and then aerodrome at Darois. A good road and not much traffic.
Then down a steep hill with beautiful woods to Val-Suzon. It was sunny again.
Climbed up to St. Seine L'Abbaye where we stayed two years ago at the Hotel de la Poste and paid £11.10. 0. for the night for 4 of us.
This was the most we ever paid then and it still rankles. I was feeling very queer by now (those frittes of yesterday were beginning to ferment).
Jack suggested I should call at the Hotel de la Poste, ask the price of two rooms, tell mine host what to do with them and then be sick in the lounge.
This raised a laugh, but half way up the hill out of St. Seine L'Abbaye we had to stop to give me a chance to come up for air.
St. Seine is a very pretty place and the view from where I stood behind a tree heaving and heaving compensated for the temporary set back.
However, I felt better as we got on the move, but decided to have nothing to eat that day. On to Chanceax along the Seine valley.
At Courceaux the road was barred and we had to detour through a lovely wooded by-road to Chatillon-sur-Seine. We had a few showers, then sunny again.
It was a very lonely stretch of country. We saw an eagle on a tree near Aisey-sur-Seine.
Reached Chatillon at 11.50 a.m. and cashed cheque at Banque de Cote D'Azur, 67.75 francs for £5, which was quite good.
Then on through woods with the river on our left, also cornfields and many red poppies.
Near Courteron 5 lads on motor bikes with G.B. plates passed us. Later we saw sweet corn or possibly maize growing and sprinklers watering the fields.
Through rolling country with woods and all very pretty. By noon we were at Les Maisons-Blanches and at Troyes by 1.50.
Found it well posted for Soissons. Outside Troyes there is a big air field. A good fast road almost dead flat. Through La Belle-Etoile. At Mery-sur-Seine people picnicking.
Cloudy again. Between Grangesssur-Aube and Anglure there were avenues of trees with big bunches of misletoe growing in them - obviously cultivated.
We by-passed Sezanne along a new road to Soissons.
Then through Montmiral and Chateau-Thierry crossing the historic River Marne of the 1914-18 war where Joffre counter attacked and pushed the Germans back when they were only 10-15 miles from Paris.
Bright and sunny again. Up the hill towards Soissons, past the cottage which Jack photographed 2 years ago.
We saw a herd of white cows here. It is rolling country with woods here and there and good views for miles.
At a small place called Hartennes we stopped for tea at the Hotel de la Croix D'Or. I sat outside and had a tonic water.
After we left Soissons we passed the Oise and Aisne canal and through a forest with warnings about stags and deer.
Then by the canal St. Quentin. Flat like Lincolnshire. St. Quent:in by 5.0 p.m.
This is the 1914-18 western front. At Bellecourt there was an American monument. Later we saw barges on the canal Cambrais.
After Cauilirais we stopped and looked round a war cemetery - mostly Canadians and all so very young. It was nicely kept and we signed the register.
By now it was quite cool (6.0 p.m.) and we were knocking off the miles to get near Calais. At Lambres we passed a bad smash at cross-roads.
Then Douai and on through the Lens coalfields. Bethune at 7.0 p.m. and stayed for the night at Argues at the Grand Sainte Catherine Hotel where we had a first class dinner including a glorious omelette.
My day's fast paid off because I enjoyed it with no after effects.
The bill for the night, dinner and breakfast was 89 francs including tips for the four of us, about £5.13.0.
Our longest day's mileage, but done in comfort and no feeling of hurry. +390 miles.
And so to bed.
(I am amazed by this 390 mile journey on the old N roads, no autoroutes then, and they stopped several times, taking some 11to 12 hours-JB).
BACK TO CONTENTS






13. Day 17 Arques to Calais then Northampton. 175m.


The last day's route to home via Calais and Dover.

Left Arques 8.45 a.m. and reached Calais at 9.15 a.m. Sunny, Spent rest of morning shopping and getting rid of the last of our francs (on drinks, of course).
Then on to the boat. Lunch on the boat very good (12/6d each). A calm crossing and reached Dover at 3.45 p.m.
Stocked up with whisky & sherry and tobacco on the boat and were first off at Dover.
Not so good because the Customs Officer, very apologetic, charged Jack on a Spanish leather handbag. If we had been a bit later in the queue we might have got through without trouble.
Then filled up with petrol and out into Kent and the green fields and orchards. Straight across London and on to the M.1.
Had tea at the Poddington service station and finally reached Northampton. +149 miles.
Total mileage 3138 miles, add for Jack, High Wycombe to Northampton and return +114 miles. Grand total mileage: 3252 miles.

It was a first class tour with glorious sunshine most of the way and thanks to the driver and car, never so much as a near squeak.
Although we covered over 3,000 miles, we seemed to have all the time in the world, including the five glorious days near Cullera.
We meant to have a good time and not to spoil it by trying to do it on the cheap and yet it worked out all in at about £65 to £70 per head for the 17 days.

THE END
BACK TO CONTENTS