BACK TO INDEX PAGE

THE FAMILY HISTORY.
N.B. Some of the information here refers to the "records". These are the various sources I have used for information including County Records Offices, Parish records the IGI (International Genealogical Index) from the LDS Web site www.familysearch.org and Norman Ratcliffe's Barcock family tree which I previously mentioned. The rest comes from my own knowledge, the present family and extensive research which I believe is largely correct.

Tracing back through the male line, and Starting with my Father, William George Barcock:

Contents
1. WILLIAM GEORGE BARCOCK (of Northampton)- my father
2. WILLIAM GEORGE BARCOCK (of Northampton)- my Grandfather
3. JOHN BARCOCK (of Sharnbrook) my Great Grandfather
4. THOMAS BARCOCK.(of Souldrop)- my 2x Great Grandfather
5. JOHN BARCOCK (of Willington)-my 3x Great Grandfather
6. WILLIAM BARCOCK (of Eaton Socon)- my 4x Great Grandfather
7. RICHARD BARCOCK (of Eaton Socon)- my 5x Great Grandfather
8.JOHN BARCOCK (of Eaton Socon)- my 6x Great Grandfather
9. WILLIAM BARCOCK (of Eaton Socon)- my 7x Great Grandfather
10. RICHARD BARCOCK (of Eaton Socon)- my 8x Great Grandfather
11.RICHARD BARCOCK (of Eaton Socon)- my 9x Great Grandfather
12. JOHN BARCOCK (of Eaton Socon)- my 10x Great Grandfather



1. WILLIAM GEORGE BARCOCK - my father
Born February 18, 1901 in Northampton England.
Died August 18, 1981, cremated remains at St. Michael's and All Angels Church, Northampton.

Married Alice Beale on August 17, 1929 at The Parish Church, Northampton England.


<At the Church
<Here they are before being married with the car Dad drove.

Children;
1.1 John Barcock, myself, b. October 2, 1939
1.2 Muriel Barcock, my sister, b. April 20, 1932
Brief Biography.
My Father lived with his family at 46 Clarence Avenue, Northampton, until he married my Mother, Alice Beale, and moved to a new house, 6, Highfield Road, on the then northern outskirts of the town in the Kingsley district. he continued to live there all his life until he died in St. Matthew's nursing home nearby.
My mother was very beautiful and always dressed very fashionably.

Here is a studio photograph of my mother before she was married.
Colourised
My father worked as a clerk in the Northamptonshire County Architects department all his working life rising to the position of Chief Clerk and retired at the age of 65.
He was well regarded and I remember Dad said the County Architect, Mr. A. N. Harris ("Harris" as Dad referred to him"), called him "Old Greyhead" when he wanted Dad's advice. Harris succeeded Mr. Perkins as County Architect in 1948 when Dad was well established. A wonderful tribute to Dad was paid by Mr. Alec Morgan in a letter to my sister which can be seen in my Family Documents page. Mr. Morgan worked in the office during the early years of the WW2.
Close Family Memories.
Dad's younger sister was Florence (who was called Florrie), and younger brother was John (who was called Jack).
My Dad and Uncle Jack were very close, but Dad was not so close to Florrie, although I saw her regularly by my Mum taking me to visit her when she lived a few streets from us in Northampton. She married George Burgess and they had a daughter Joy who was a bit older than my sister Muriel. As I was 7 years younger, I thought those two girls were so grown up, and Joy was my favorite cousin. She loved dogs and had lovely springer spaniels. But the Burgess family were not really sociable types and never visited us. After she married Sid Luck, Joy seemed to become more reclusive and in her latter years I hardly ever saw her. they didn't have children.
Uncle Jack was different. He was my favorite Uncle and a second Dad, second only to Dad to me. In the war years we used to go to stay with Aunt Margaret and him at their home, Ash Cottage in Hazlemere for our holiday. The two daughters Eileen and Mary were there to play with me, but I mostly played on my own in his garage, in his car, an Austin 7, which was laid up on blocks for the duration of the War. They were magical holidays for me.
I have beenin contact with both Mary and Eileen recently and they supplied information about their branch of the family. They both had very interesting things to say about their children which I will relate in more detail in my Extended Family page. Suffice to say Mary's son Michael is an officer in the Royal Navy and I have a picture of him introducing his wife and family to the Queen on board his ship. Eileen's son-in-law Michael is a Major in the Parachute Regiment and has seen action in Iraq. There is much for me yet to include about them.
Mum and Dad, and Margaret and Jack, spent many holidays together, even after they retired and I have an account by my Dad of a famous trip to Spain when they were in their 60s, which I will include a link to here later.*
BACK TO CONTENTS

2. WILLIAM GEORGE BARCOCK - my Grandfather
Born November 10, 1875 at 16 Duke St. Northampton England
Died November 11, 1944 at 137A Wellingborough Rd. Northampton England
Certificates are included in the Family Documents page
Married Fanny Cross March 28, 1896 at St. Peter's Northampton

Grandpa & Grandma Barcock 1921
Children;
2.1 William George Barcock, my father, b. February 18, 1901
2.2 Florence Barcock
2.3 John (Jack) Barcock, b.1905
Brief Biography.
My Grandfather had a cheerful, friendly appearance which, although I was too young to remember him, I'm sure was his nature.
Photographs of him all suggest this. My father, also called William George, was his eldest son. He would have been WG Jn. in the USA I suppose. Then there was Florence, called Florrie, and my Uncle Jack the youngest.
I can't remember him except his gold watch chain which must have fascinated me when I sat on his lap as a baby, and his rough tweed clothes. I remember more of Grandma Fanny, who lived on after he died. She took snuff and sometimes gave me a bit to make me sneeze. I really loved her but I know she was a bit of a problem. My Dad and Uncle Jack looked after her and him as well I think as she had spent all their money I believe. Fanny apparently used to be very mean for ages then go on a spending spree that caused problems! He had a very good position as Factory Superintendent at the O. A. Miller Last Works in Northampton. I have a tax return of his, see the Family Documents page section G, which shows his income for the year 1925 was £486, a considerable salary and scope for Grandma Fanny's excesses.
BACK TO CONTENTS
BACK TO INDEX

3. JOHN BARCOCK - my Great Grandfather
Born 28th. August 1843, at Sharnbrook, Bedfordshire, England
Died before 1896 as he is described as "deceased" on his daughter Alice's marriage certificate 6.9.1896.
He was married twice His first wife was Mary Ann Wills and after she died he married Sarah Ann Lane.
These certificates are included in the Family Documents page Section B.

I do not have a picture of G.Gpa John or his wife. I will keep looking for one, surely there must be one somewhere.
I feel he was unlucky in that he lost both his wives when they were still young. He worked in one of the shoe factories as a "riveter". I'm not sure what that was but I guess it was perhaps fixing the eyelets into the shoe. Just an ordinary labouring job I think and he must have been desperate to have left the country life for that. But that was the time of the collapse of farming and the farmworkers were out of work and starving. So they had to go into the new industrial towns for work, Northampton must have been like heaven compared to Bradford and the "satanic mills".
Here is a photo of 17 Military Road, the small house they lived in at the time of the 1881 census. My sister Muriel found it and photographed it. It sports a satellite TV dish now!


So I have the vision of a rather unfortunate man, dealt not the best hand to play the game of life with. Nevertheless, he and Sarah were successful in that they brought up their 4 children, Alice, William, Kate and Ellen all of whom had good lives.
I feel great admiration for them.
I have photos of the 4 children, when they were grown up, cropped from other photos;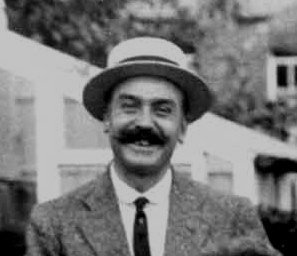 Alice in 1921 aged 50 William G.in 1921 aged 46 Kate in1921,age43 Ellen in 1923 in her late 30s.
Their mother Sarah Ann died aged 45 in 1892.
BACK TO CONTENTS

4. THOMAS BARCOCK - my 2x Great Grandfather
Born 1806. Christened 30.11.1806 Souldrop Bedfordshire England
Died 28.8.1876 (from funeral card).
Married 30th August 1829 to

HANNAH ALIBONE

born 1807
I have seven children recorded for them. William born 1832, George born 1833, Elizabeth born 1835, Susanah born 1837, Thomas born 1840, Great Grandpa John born 1843, who married Mary Ann Wills first and Sarah Ann Lane second, and Mary born 1846 who never married according to the record.
We are now entering relatively unknown territory (no pun intended)., but I have some interesting artefacts.
First, there is a photograph that cousin Fredda showed us, when we were visiting her in Maine U.S.A., of a lady with two girls which was labelled " Thomas Barcock's wife Hannah", but with a question mark. Fredda's husband Peter later emailed it to me and here it is;

But I have now discounted it as being Hannah because she looks about 40 and the date would only be 1847 which is too early for studio photography.
I still have to identify this photograph. I'm thinking it may be from the Lanes side of the family.

Another photo of Hannah exists, when she was much older. It also came from Fredda and Pete by email. Here it is;

Hannah Barcock
Photo back

As you see, it is clearly marked by Gt Aunt Alice Barcock as "Grandma Barcock" and "Dad's Mother". It must have been taken in a fairground or fete outside as the "floor" is grass covered by a sheet and the background could be a false wall. She is holding a bible as was the custom I believe. This must be a very old photograph from around 1870. Studio photographers were only just becoming popular.
The invention of photography is generally agreed to be1839, a date I remember from my printing studies. Studio photography dates from the 1860s but the turn of the Century is more the time of its popularity.
Fredda and Pete also supplied a picture of Thomas's funeral card;

This gave me the date he died, 28.8.1876, aged 69 years.

That's about all I have on Thomas and his family at this moment.
I do have his date of birth entry in the Parish register which can be seen on the Family Documents page.(Not on the Web)
BACK TO CONTENTS

5. JOHN BARCOCK of Willington, my 3x Great Grandfather
Born 1787, baptised July 15th. 1787.
Married Elizabeth Gibbons 28th. July 1806 in Souldrop.
Six children are recorded to them. 2x Great Grandpa Thomas born 1806, Elizabeth born 1807, John born 1809, Sarah born 1811, Susannah born 1816 and Mary born 1818 who married Thomas Bell.
NB. Mary and Thomas Bell had a son, James Bell and this line eventually led to Marjorie Ethel Bell, who emigrated to Canada to start that Branch.
Marjorie Ethel Bell was Adrienne Hall's grandmother, see The Canadian Connection Page.

The recurrance of the same male family names now becomes almost uncanny!
This is now the main stem of the family tree as John the eldest son of William his father.
This John Barcock marks the point at which no photographs can exist, but I have copies from the parish records of his birth and marriage.
These can be seen on the Family Documents page together with all the documents referred to here, but not on the Web for copyright reasons..
The marriage was by special licence and an interesting addition to the marriage certificate was provided by the records office, his special licence to marry Elizabeth.
I realised that this special licence was needed because they married in rather a hurry due to fact that Elizabeth must have been five month pregnant with their first son Thomas, my 2x Great Grandfather!
He was born in November 1806 and the birth entry is on the same page of the Parish records. I cannot include a photocopy of the special licence here as there may be copyright to this, but I can include a transcript which shows the attractive language used but can't show the beautiful handwritten script which was used for all such documents before the invention of movable type for printing.To give some sense of this I have used a script typeface.


BACK TO CONTENTS

6. WILLIAM BARCOCK - my 4x Great Grandfather
Born 1756, Christened 14th. March 1756 Eaton Socon, Bedfordshire.
Married 11th. October 1785 to MARY HIGHT.
There are 4 children recorded to them, 3x Great Grandfather John born 1787, Mary born 1790 but died the same year, William born 1792 but died 1793, and Thomas born 1793.

This William is the first recorded Barcock from Eaton Socon where all the rest of the earlier Barcocks come from.
His baptism is recorded in Eaton Socon, his marriage record shows him from the parish of Willington where he must have been living at that time.
These records can bee seen on the Family Documents page. (Not on the Web for copyright reasons).
As he and Mary only had the two surviving children, she may have died in childbirth. See my comments below about his father's Will.
I have not been able to find out any more about the family from the IGI.

7. RICHARD BARCOCK of Eaton Socon, my 5x Great Grandfather
Born 1727, Christened 23rd. May 1727 Eaton Socon, Bedfordshire.
Married 20th. July 1754 to SUSAN ODELL.
Died 1795.
There are 7 children recorded to them;
4x Great Grandfather William, born 1756.
Mary, born 1761 married Oliver Wise 27.6.1782 at Eaton Socon.
Richard, b.1767 d. 1768.
Ann, b.1768 m. William Single 1.12.1786 at Eaton Socon.
Richard, b.1772 m. Sarah Shelford 24.9.1798 at Stevington.
Martha, no information on her and Edith b. around 1775.
Richard was a wheelwright, as was his father so it could have been a family business. As they lived at Eaton Socon on the Great North Road, the Roman Ermine Street, there would have been good passing business. They must have been the equivalent of the modern car tyre fitters, only more skilled!
There is a copy of his Will from the records which can be seen in the Family Documents Page (not on the Web for copyright reasons).
In this he leaves his estate to his wife Susanna and he mentions his daughters Mary, Ann, Martha and Edith inheriting from her, but no mention of his son William.
As he drew the Will up in 1794 and died 1795, it must be that William had died. His last child was born 1793 and they only had 2 surviving children so that suggests he had died after the last one. As William's wife Mary was not mentioned either perhaps she died in childbirth. I sense some sort of tradgedy here, I hope not but I have not been able to find out any more about the family from the IGI*
Norman Ratcliffe expressed a possible doubt that this was the correct Richard because of the omissions in his Will, but there is surely too much co-incidence in the names of the daughters, and I think my suggestion that both William and Mary had died is most likely to be right.

BACK TO CONTENTS

8.JOHN BARCOCK of Eaton Socon, my 6x Great Grandfather
Born 1686, Christened 28th. May 1686 Eaton Socon, Bedfordshire.
Married 12 FEB 1715 to

ANN BROWN

b.1694
Died 1766.
There are 11 children recorded to them;
Mary b.1716 married ?Hall around 1737, William b.1718 buried Eaton Socon 1732, Richard b.1718 buried Eaton Socon 1723,
Edith b. 1721 but died an infant, Jane b.1722 married John Hicks of St. Neots 19.3.1796 Eaton Socon, Edith b. 1722, Richard b. 1725 probably died,
Richard b. 1727 my 6x great Grandfather, Ann b. 1728, Edward b.1731, John b. 1733.
Note that Edward b 1731 is the last boy not named either William, John, Richard or Thomas!
This is the time of high infant mortality so the families are large and the childrens' names are sometimes repeated presumably because the younger one died.
John's occupation is recorded as a wheelwright and he must have been successful as he owned a cottage in the centre of Eaton Socon, probably he established his own business which he passed to his son Richard.
Remarkably, I have a photograph connected with this John, his cottage home in Eaton Socon;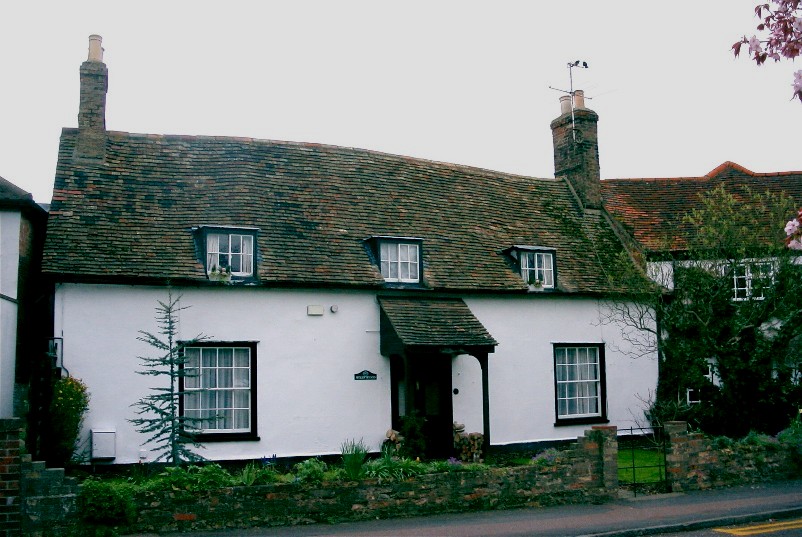 John Barcock's cottage in Eaton Socon.

I was directed to the Eaton Socon Society by the Vicar of the Parish Church, when I asked for information on the family and a researcher with the society, Susan Jarrettt, was actually investigating the property in connection with old maps of the village.( See also the page "Eaton Socon Connection").
The map showing property belonging to John Barcock was from the 1790s and Grandfather John died in 1766, but the plot could have still been in his name.

Map showing John Barcock's property in Eaton Socon. (Not on Web).
The cottage is now owned by the local Butcher and Susan Jarrett has asked to look at the deeds to see when John Barcock lived there. I hope to eventually get that information. In his Will, which can be seen in my "Family Documents" page, he bequeaths his Cottage to his wife Ann to live in during her lifetime and then to pass to his son Richard.
There is also another plot of land on the map belonging to John Barcock, so he evidently was doing well as a wheelwright.
BACK TO CONTENTS

9. WILLIAM BARCOCK of Eaton Socon, my 7x Great Grandfather
Born 1657, Christened 28th. August 1657 Eaton Socon, Bedfordshire.
Married 31.5.1680 (*IGI) to

ELIZABETH WATFORD

b.abt. 1658.
There are 7 children recorded to them but tragically, only two survived childhood apparently. They were John, my 6x Greatgrandfather,b1686 and Jane, b1689. The others who all died in chlidhood were Thomas, Elizabeth , Richard , another Thomas and Sarah, the last child b.1693 and died 1699.
I don't have any further information on the family at the moment.

10. RICHARD BARCOCK (of Eaton Socon)- my 8x Great Grandfather
Born 1629, Christened 8th. July 1629 Eaton Socon, Bedfordshire.
Married 1.6.1657 (*IGI) to

JOAN FRANK

b. 16th. Jan. 1631. Eaton Socon (*IGI)
There are 4 children recorded to them, 7x Great Grandfather William b. 1657, Richard b. 1661, Maria (Mary) b. 1665 and Jana (Jane) b.1668.
Jane married Thomas Frank 16.4.1689 (IGI*) who must have been a cousin related to her mother.
I don't have any further information on the family at the moment.

11.RICHARD BARCOCK (of Eaton Socon)- my 9x Great Grandfather
Born 1603, Christened 24th. April 1603 Eaton Socon, Bedfordshire.
Married 15.9.1622 (*IGI) to

ALICE KIDMAN

b. abt 1600
Died 1692. Buried 7.12.1692 Eaton Socon.
The first noteworthy thing is his great age of 89 years, the longest lived Barcock of the recorded ages, next to my father aged 80. He lived through the greater part of the 17th. Century as my father lived through the greater part of the 20th. Century.
The existance of his Will, which can be seen in my Family Documents page, adds to the information about their children together with the IGI*.
They had 11 children, but exactly how many survived childhood is not in the records. Some names are "Latinised" in the records;
Jacobus b. 1623, Edith "Eden" b. 1625, Elizabeth b. 1625 married a man named Bowers from the Will, then William b. 1626 and John b. 1628 are not mentioned in the Will so presumably died young, Richard b.1629, my 8x Great Grandfather, Joan "Jean" b.1632 married Guliemus Franklaine 6.4.1676,
William b. 1633, John b. 1636 and then an unknown daughter from the Will, and finally Sarah b. 1644, married name Wright from the Will.
In his Will he left amounts of several pounds to various children, which doesnt't sound much now but I have found that a pound was at least 100 times its present value so the total of 21 pounds left in the Will was a very substantial amount, equivalent to several thousand pounds now. Considering that having money then was the preserve of the rich he must have been a wealthy man.

12. JOHN BARCOCK (of Eaton Socon)- my 10x Great Grandfather
Born 1576, probably near or at Eaton Socon, Bedfordshire.
Married 23.10.1592 (*IGI) to ELIZABETH BUNDY.
Died around 1612. (see Will of John Barcock dated October 1612)Al
Well, here we are at the end of the trail- so far!* back to the earliest Barcock in line. *I have recently discovered his father was Richard Barcock b. 1540 and I will add him shortly!
John and Elizabeth have 4 recorded children, William b. 1593, Agnes b.1595, Elizabeth b. 1598 and Richard b.1603, my 9x Great Grandfather.
I have no further information about them as yet. I may be able to find out something but I can find no clear sources of information earlier than this. The IGI* does not go much further back than the mid 1500s and if they could not find anything, I don't hold out much hope for my success.

BACK TO TOP OF PAGE

*IGI: International Genealogical Index of the Church of Jesus Christ of Latter Day Saints found at www.familysearch.org